What are the business benefits of using Social Media?
Social Media platforms such as Twitter, Facebook, LinkedIn and Pinterest help you to connect with large audiences and develop key relationships that add value to your business. With Social Media you can build brand awareness, promote goods and services, manage your reputation and most importantly, drive quality traffic to your website that results in sales.
As well as offering clear marketing benefits, Social Media enables you to listen and respond to brand mentions and company feedback, keeping you in real-time control of your online reputation.
Why is Social Media important for SEO?
Major search engines, such as Google, Yahoo and Bing use Social Media signals to help find and rank pages for relevant keyword searches.
Having an active Social Media presence and using it to encourage your audience to read and share your content will have an overall positive impact on your SEO campaigns. Social success can mean search success for your business – particularly as Google moves towards a more 'socially influenced' algorithm in the future.
Social Media mean better rankings
Creating great content that's valuable to your audience will encourage people to share your content and link back to your website. Having more quality links to your site means better rankings and being social is a great way to attract those links.
Social Media is therefore an essential component of your SEO strategy.
Why our Social Media Marketing is different
Site Reach ensure that our clients' Social Media campaigns not only work hard to promote their brand, but also help their Search Engine Optimisation keyword goals by optimising posts, tweets, content and profiles.
Our Process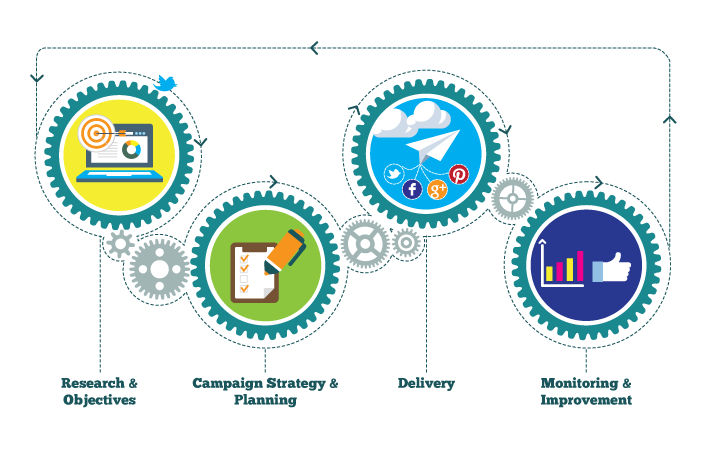 Research and Objectives
The start of the Social Media journey is to establish your objectives. For example, are you looking to achieve:
Brand awareness
More sales
Customer loyalty
Reputation management
B2B or B2C customer engagement?
Knowing the goals you are working towards will determine what types of content we'll produce.
We'll then get to know your business and then conduct a Social Media Audit and sector/competitor analysis to create a complete audience profile. You may already know who your customers are but knowing where you will find them on Social Media is an important part of the research stage. Also, knowing what your competitors are up to can provide valuable insights into how customers respond to different types of content.
Campaign Strategy & Planning
We will create a comprehensive Social Media Marketing strategy that is targeted to your audience and your goals. We will discover:
Which social networks are best for your business
What tone of voice your business should take
What type of content and resources should be created
Plan frequency schedules
Develop policy guidelines for protocols
Establish whether social media advertising would be beneficial.
Carefully developing a plan that will give your business the best social opportunities.
Delivery
We take all the above and implement your Social Media marketing campaign and ensure it runs on schedule. We will manage:
Initial and ongoing campaign plan
Post and respond on your schedule
Adjust and tweak content based on current events and news
Adapt to changes
Create dynamic conversations with your target market
Establish and grow a loyal community for your brand
Connect with and support key influencers
Monitor conversations about your brand
Feedback to you tasks for attention
Manage your brands tone of voice
Monitoring and Improvement
Site Reach use real-time toolsets to help keep track of your campaigns. We will:
Analyse KPIs and monitor progress
Establish and monitor behavioural data
Track goals, sales and other desired outcomes
Develop demographic insights
Discuss targeting improvements
Are you ready to kick off your Social Media strategy?
Call
0117 214 0101

 to start your Social Media consultation or send us your details below.