Site Reach is a digital marketing agency based in Bristol. We draw on over 12-years experience in growing businesses through a balance of Search Engine Optimisation & Pay-Per-Click Management, as well as creating quality content and viral Social Media strategies.
Compared to other Search Engine Marketing agencies learning the ropes, we've been optimising websites since 2005 and have been Google Partners (formally Google Certified Adwords Partners) since 2006.
Today, we thrive on delivering customised digital marketing strategies designed to connect with your audience wherever they may roam. From business-critical Organic optimisation to ROI-focussed Facebook Ad campaigns, we're here to generate quality traffic and measurable sales.

What makes us stand out?
Our SEO Methodology
With 200+ ranking factors to consider,  there's a lot to get right. Our SEO methodology has been fine tuned over 130+ regional and international SEO projects, giving us a significant edge over the competition.
Site Reach only use ethical, 'white-hat' techniques to optimise websites. This means we'll always work within the major Search Engines' guidelines to optimise your website without spamming, cloaking or otherwise deceiving search engine spiders. Testament to our ethical approach, we've never been affected by the ongoing Google Penguin & Panda algorithm updates which penalise websites using poor SEO practices.
Our Content
Our Content Marketing strategies are well aligned with our SEO goals and designed to add long-term value for our clients. We've honed our skills in Customer Profiling, Content Creation and Outreach, with enough time in the field to earn some top influencer contacts.
We produce articles, infographics and videos in-house within a pre-agreed budget, giving you a regular output of engaging, on-brand and goal-driven content.
Paid Search Professionals
We're hardened Paid Search professionals with a rigorous approach to rules-based bidding, testing and optimisation across Google Adwords, Bing Ads, Facebook, Instagram and LinkedIn. Our premium management toolsets ensure we deliver high-intent traffic at the lowest cost-per-click possible.
Transparency of results
We think honest, transparent reporting is a crucial component of any quality online marketing service – so all our reports are provided free of charge. We provide clear monthly reports to show website engagement coming from all online channels – giving you a complete overview of your marketing performance via Organic, Paid, Direct, Referral, Email and Referral sources.
Here's a glimpse of some of our reports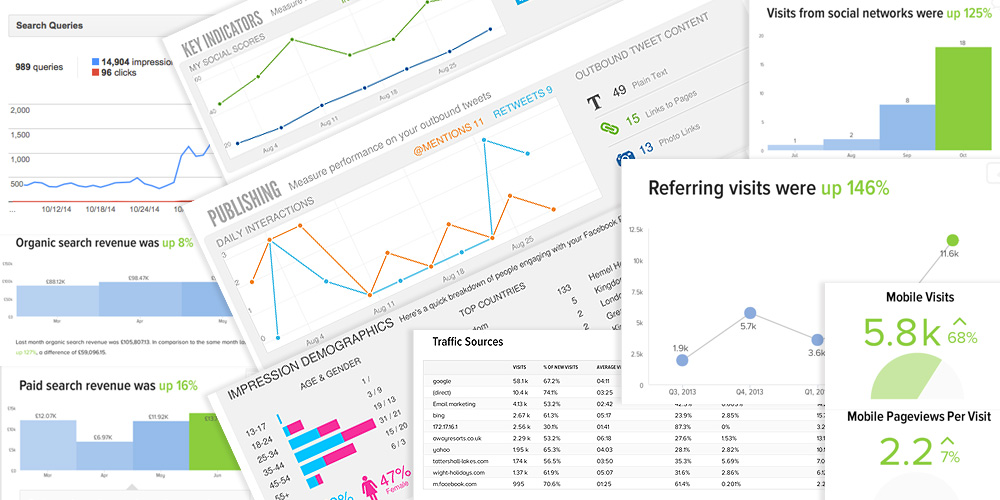 If you're thinking about reviewing your Digital Marketing strategy, give us a call on 0117 214 0101 (or drop us an email). We look forward to hearing from you!
Key staff
Tom Bennison, Search Marketing Director
Site Reach was established in 2010 by Tom and culminates his 11-years experience working both in-house and for top-UK Search Marketing agencies. During this time Tom has achieved significant results via Organic & Paid Search channels for clients like Highgrove Shop, Haskins Furniture, Premier Tax Free, Babcock International and Away Resorts. Tom is both a Google Analytics Qualified Individual (2009 – present) and is a Google Partner (2008 – present).
Patti Thomson, SEO Manager
Patti worked agency side for large brands such as Jimmy Choo, Bally, Belstaff, Mr. Porter, as well as John Lewis before joining Site Reach early in 2015. Patti specialises in the delivery of creative and holistic link building campaigns for our clients, whilst keeping the team abreast of the latest Google trends.
Martin Hughes, Account Director
Martin brings 6-years of commercial management experience to the team, having worked with companies such as AA, BT and Yell. Martin is a seasoned PPC, SEO and Conversion Rate Optimisation specialist, working closely with our clients to develop their digital strategies.
Tommy Longrigg, Content Marketing Manager
Tommy is a talented content marketer, specialising in travel, retail and finance sectors. He holds a Bachelors degree in Mandarin Chinese from Beijing Language and Culture University, and has accumulated eight years' content marketing experience.