Have you experienced a sudden drop in Organic traffic? You may have been hit by a Google penalty.
If your website has unexpectedly dropped out of the Google Organic results page, it's possible that it's been affected by either a Google algorithm update or (more seriously) you've been penalised for using 'black hat' SEO techniques. Sometimes website owners use unethical tactics that, sooner or later, result in a Google slap on the wrist. In other cases, marketers simply don't realise they were doing anything wrong (e.g. paying for an advertising opportunity). Whatever the reason, the loss or reduction of Google Organic traffic can have a detrimental impact on your business and needs to be resolved immediately.
Manual Actions vs. Algorithm updates
In order to troubleshoot the decline in Google Organic traffic, it's important to distinguish between two types of Google demotion – Manual Actions and algorithm updates.
In serious situations where a website contravenes Google's Webmaster Guidelines, Google will notify you directly via Google Webmaster Tools on the Manual Actions page and provide some guidance on how to rectify the problem.
Less easy to troubleshoot are their algorithm updates (such as the regular Google Panda and Google Penguin updates) which requires a more comprehensive review to help diagnose the problem.
Manual Actions
If you receive a Manual Action notification email from Google Webmaster Tools, Site Reach are able to guide you through how to fix the issue and recover your ranking positions as quickly as possible.
Manual Actions may include warnings such as:
Unnatural links to your site—impacts links
Unnatural links to your site
Unnatural links from your site
Hacked site
Thin content with little or no added value
Pure spam
User-generated spam
Cloaking and/or sneaky redirects
Hidden text and/or keyword stuffing
Spammy freehosts
Spammy structured markup
The notification may affect all or part of your website.
Here's how the notification appears in Google Webmaster Tools;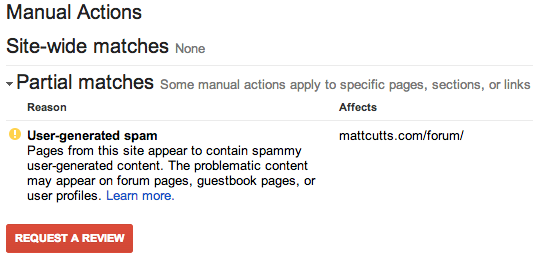 Google algorithm changes
If you haven't received a Manual Action notification, it's possible that you've been affected by a Google Panda or Google Penguin algorithm update. These algorithm changes are rolled out by Google to improve the quality of their search results. Sadly, there will be no Google Webmaster Tools notification – it's up to you to troubleshoot these issues unaided.
How we can help
Site Reach have helped several businesses diagnose and restore their Google Organic positions following both Manual Action notices and regular algorithm updates. We conduct a comprehensive SEO review to diagnose the problem, then work quickly to resolve the issues affecting performance.
If your website traffic has taken a sudden dive, get in touch and we'll be happy to find the root cause of the issue and get your website back on track.